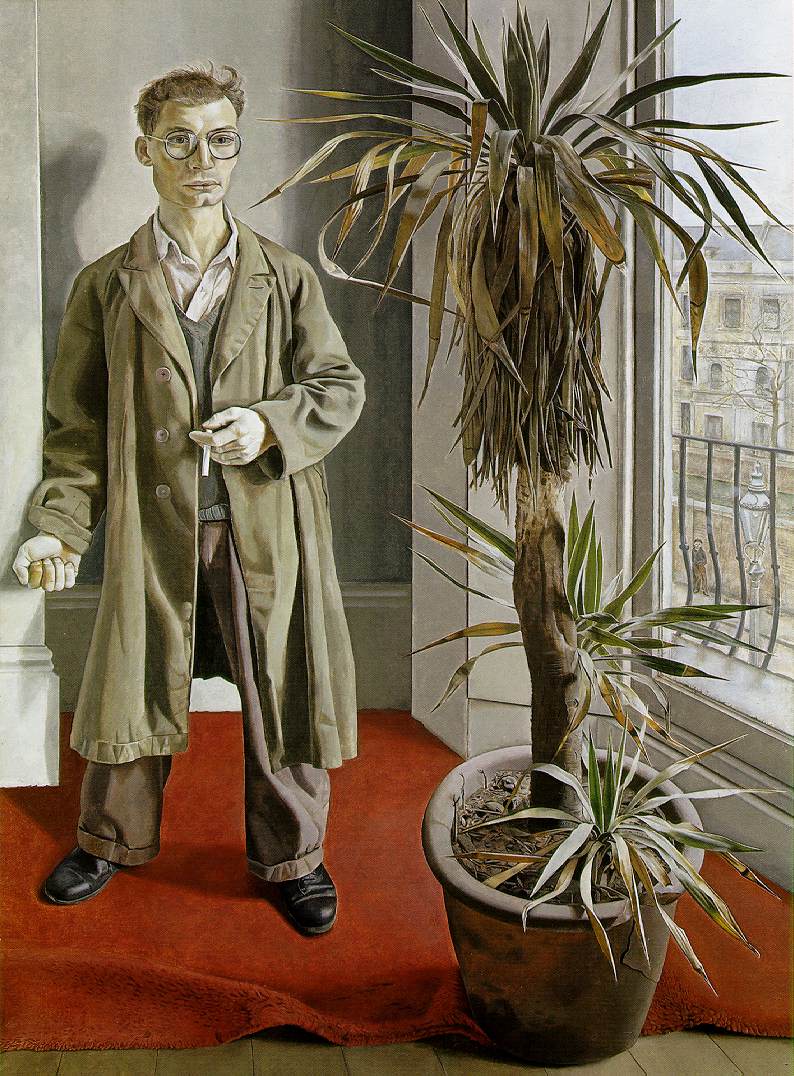 Freud briefly studied at the
Central School of Art
in London then, with greater success, at
Cedric Morris
'
East Anglian School of Painting and Drawing
in
Dedham
, relocated in 1940 at Benton End near Hadleigh. He also attended
Goldsmiths College - University of London
from 1942-3. He served as a merchant seaman in an Atlantic convoy in 1941 before being invalided out of service in 1942. In 1943,
Tambimuttu
, the Ceylonese editor, commissioned the young artist to illustrate a book of poems by
Nicholas Moore
entitled "The Glass Tower". It was published the following year by Editions
Poetry London
and comprised, among other drawings, a stuffed zebra (-cum-unicorn) and a palm tree. Both subjects reappeared in
The Painter's Room
on display at Freud's first solo exhibition in 1944 at the Alex Reid & Lefevre Gallery. In the summer of 1946, he travelled to Paris before continuing to Greece for several months. Since then he has lived and worked in London.
In the early fifties the American artist
Ronald Kitaj
who was installed in London, named as "The School of London" a loose collection of individual artists who knew each other, some intimately, and were working in London at the same time in the figurative style. (It should be noted that this was during the boom years of abstract painting.) The group was led by figures such as
Francis Bacon
and Lucian Freud, and included artists such as
Frank Auerbach
,
Michael Andrews
,
Robert Colquhoun
,
Robert MacBryde
,
Reginald Gray
,
Patrick Swift
and Kitaj. (Most of these artists, including Freud, contributed to Swift's
X magazine
; Freud shared Swift´s studio on his frequent visits to
Dublin
in the early 1950s),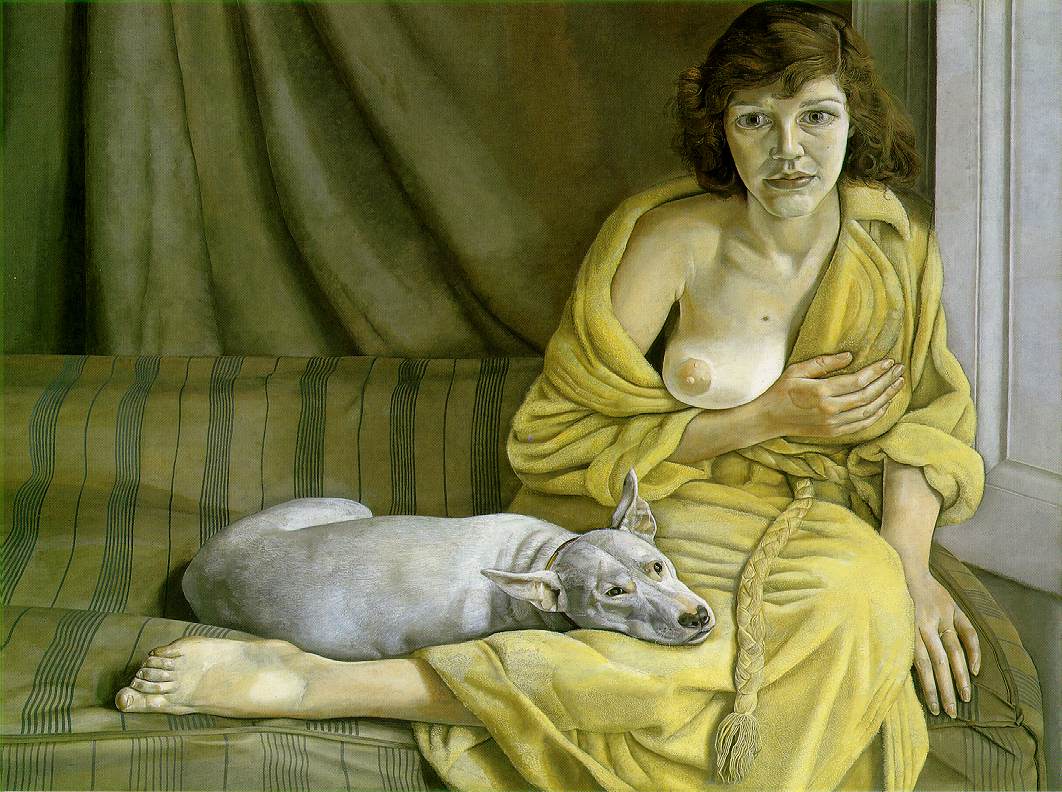 Freud's early paintings are often associated with
surrealism
and depict people, plants and animals in unusual juxtapositions. These works are usually painted with relatively thin paint.
From the 1950s he began to paint portraits, often nudes, to the almost complete exclusion of everything else, employing a thicker
impasto
. With this technique, he would often clean his brush after each stroke. The colours in these paintings are typically muted.
Freud's portraits often depict only the sitter, sometimes sprawled naked on the floor or on a bed or alternatively juxtaposed with something else, as in
Girl With a White Dog
(1951–52) and
Naked Man With Rat
(1977–78)
[

2

]
. The use of animals in his compositions is widespread, and often features pet and owner. Other examples of portraits with both animals and people in Freud's work include
Guy and Speck
(1980–81),
Eli and David
(2005–06) and
Double Portrait
(1985–86).
[

3

]
He has a special passion for horses, having enjoyed riding at school in Dartington, where he sometimes slept in the stables.
[

4

]
His portraits solely of horses include
Grey Gelding
(2003),
Skewbald Mare
(2004), and
Mare Eating Hay
(2006).
Freud's subjects are often the people in his life; friends, family, fellow painters, lovers, children. He said, "The subject matter is autobiographical, it's all to do with hope and memory and sensuality and involvement, really."
[

5

]
In art critic Martin Gayford's 2010 book, Man with a Blue Scarf: On Sitting for a Portrait by Lucian Freud, Gayford chronicles the forty days he spent with Lucian Freud while sitting for his portrait. Gayford surmises that Freud seeks to capture his model's individuality by, as Gayford names it, his "omnivorous" gaze. Gayford also mentions that his final portrait seemed to "reveal secrets—ageing, ugliness, faults—that I imagine…I am hiding from the world..." - suggesting how sharp and penetrating Freud's gaze is.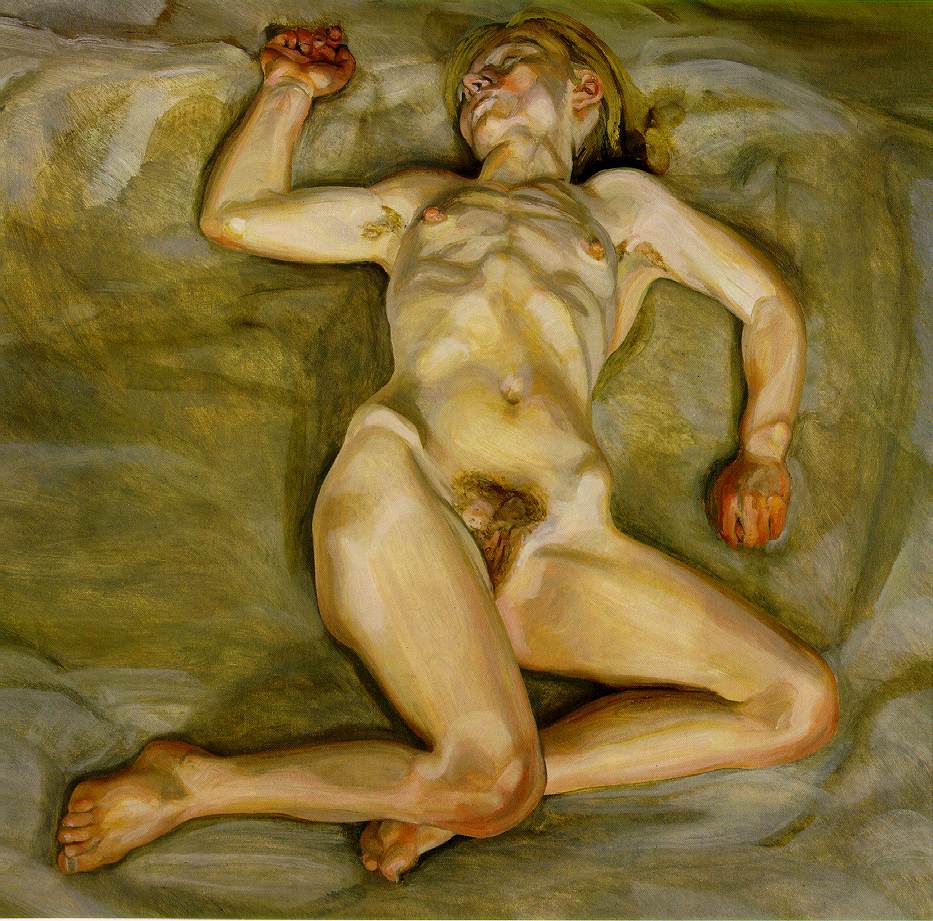 "I paint people," Freud has said, "not because of what they are like, not exactly in spite of what they are like, but how they happen to be." Freud has painted fellow artists, including
Frank Auerbach
and
Francis Bacon
. He produced a series of portraits of the
performance artist
Leigh Bowery
, and also painted
Henrietta Moraes
, a muse to many Soho artists. Freud is one of the best known British artists working in a representational style, and was shortlisted for the
Turner Prize
in 1989.
His painting
After Cézanne
, which is notable because of its unusual shape, was bought by the
National Gallery of Australia
for $7.4 million. The top left section of this painting has been 'grafted' on to the main section below, and closer inspection reveals a horizontal line where these two sections were joined.
He was a visiting tutor at the
Slade School of Fine Art
of
University College London
from 1949-54.
In 1996, Abbot Hall Art Gallery in
Kendal
mounted a major exhibition of 27 paintings and thirteen etchings, covering the whole period of Freud's working life to date. The following year the
Scottish National Gallery of Modern Art
presented "Lucian Freud: Early Works". The exhibition comprised around 30 drawings and paintings done between 1940 and 1945
[

8

]
. This was followed by a large retrospective at
Tate Britain
in 2002. During a period from May 2000 to December 2001, Freud painted
Queen Elizabeth II
. There was criticism of this portrayal of the Queen in some sections of the British media. The highest selling tabloid newspaper,
The Sun
, was particularly condemnatory, describing the portrait as "a travesty".
[

9

]
In late 2007, a collection of Freud's etchings titled "Lucian Freud: The Painter's Etchings" went on display at the
Museum of Modern Art
.
[

10

]
In May 2008, his 1995 portrait
Benefits Supervisor Sleeping
was sold by auction by
Christie's
in New York City for $33.6 million, setting a world record for sale value of a painting by a living artist.
[

11

]
In November 2008, letters written by Freud were obtained by
The Independent
under the
Freedom of Information Act
. They detail his bitter dispute with some of the most powerful figures in the art world after he was asked to represent Britain at the 1954
Venice Biennale
, the world's leading contemporary art exhibition. The publicity-shy portrait painter locked horns with gallery officials after a selection committee rebuffed his suggestions of works to show in Italy. The article includes a copy of the letter written by Freud to the
British Council
complaining about the selection process